I'm retiring today!!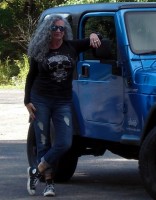 jeepcurlygurl
Posts: 20,729
Registered Users, Curl Ambassador
Curl Virtuoso
After 45 years! 40 of those years in this 105 year old building! My last day getting up at 8am. My last day parking in my parking spot. My last day sitting at the desk I put together, in the chair I rescued from the dumpster. My last day making tea in the microwave I bought in 1986. My last day looking out these windows. 
Onward!
--I'm located in Western PA.   --I found NC in late 2004, CG since February 2005, joined the forums in May 2005, started going grey in late 2005.   --My hair is 3B with some 3A, currently at mid back length when dry,  texture-medium/fine, porosity-top is low, middle is medium, ends are porous, elasticity-normal.   --My long time favorite products are Suave & VO5 conditioners, LA Looks Sport Gel, coconut oil, honey, vinegar.   
--My CG and grey hair progress -  
http://www.naturallycurly.com/curltalk/going-gray/179328-jeepys-grey-hair-progress.html   
--My article at NaturallyCurly about going grey - 
https://www.naturallycurly.com/curlreading/color/how-i-went-completely-gray-and-loved-it
Leave a Comment