Unclumped, frizzy, dry curls from Day 2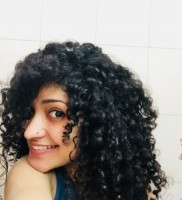 Raashi09
Posts: 9
Registered Users, Curl Ambassador
Curl Neophyte
Hi, I have 3b curls and have been following LOC method since last 8 months. I have extremely dry, frizzy hair. I wash/ co wash my hair every 3-4 days (no sulphates/ silicones) with shea moisture/ deva curl and then condition (maui/devacurl), use leave in(blueberry bliss), oil (jojoba), gel(moptop custard/ DC ultra defining). Then plop with cotton tshirt and air dry
After all this the definition and bounce stays for just a day. From day some clumps (mostly the top layer) starts to unclump and frizz up, making my hair look so poofy that I end up tying them up. Weather at my location is hot (35-40 deg) and dry. 
Because of this my curls dont flow/ bounce, they look
messy as the frizz gets them to look undefined and since I have medium length hair, they become stiff giving a cone hair shape
I also deep condition with heaven in hair atleast once a week
I refresh my curls every day with a spray mix of water, leave in, and use some gel on too. This makes my hair look somewhat presentable but only for a few
hours.
By day 3 most top layer and some bottom ones get so poofy, it looks like someone has dry combed over them (which i never never do)
what am i doing wrong?
Leave a Comment