BEST protein-free conditioner recommendations?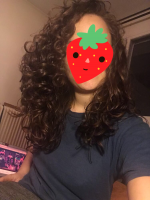 CurlyD24
Posts: 83
Registered Users, Curl Ambassador
Curl Connoisseur
Hi everyone! 

I am looking for product recommendations for a protein-free conditioner for my 3a curls. So far I was using the Devacurl OneC (that i LOVE) but I am looking for a replacement (for when I run out of it) as I like to switch up my products. I would also like to find a product that is a bit more natural. 

My hair loves aloe, honey, and lots of moisture, but doesn't like products that are too thick and contain a lot of oil / shea butter. 
I don't do very well with protein in conditioners: it tends to make my 3A hair turn into soft 2B waves that don't hold up during the day. (I tried the Trader Joe's tea tree tingle conditioner). 

Any recommendations, favorite products? 

Thanks a lot! 
2c/3a hair, with some 2b and 3b pieces. Armpit length, medium porosity, fine. Light brown with blonde and red highlights. CG since January 2018. 
Shampoo: Camille Rose Ginger Cleansing Rinse 
Co-wash: MopTop Co-wash 
Conditioner: Innersense Color Radiance 
Stylers: Innersense Quiet Calm, Innersense I Create Hold, MopTop Custard 
Leave a Comment