List of issues/bugs/etc from the last few months that I want to revisit.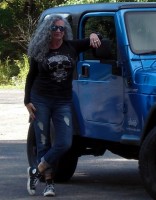 jeepcurlygurl
Registered Users, Curl Ambassador
Posts: 20,731
Curl Virtuoso
Just to keep them in the forefront for the techies. 
RE: the buttons along the bottom of posts (Quote, Agree, Like, etc). Could they possibly be made bigger? Even tho I am on NC with a laptop instead of a phone and I also increase the font size on most websites, these buttons are super small. I don't know how people can even click on them on their phones. 


RE: The white and grey delineations. If the grey spaces (along the side and on the topics we have read) could be darkened a bit, it would be much easier to find the topics we haven't read yet and much easier on the eyes since there is so much white space. 
And RE: All that white space. The white space isn't new, it was added with the change in 2014 and my eyes have never adapted to it.  I know this isn't the only site do go with all the white. I come across lots of others that do that now also. Most people my age do not like it so I think all the studies were probably done with younger people in mind. : /  
RE: The Read/Unread  topic issue. It's still very hard to tell what we have and haven't read. 
RE: editing my profile  When I click Edit My Account, I get a 404 Error message. When I click View My Public Profile, I get a Page Not Found message. But if I click on my name in a post it goes to my Activity page that shows my join date, badges, etc.  But still no way to edit my profile, change my photo, change my signature, etc. 
RE: Profile pics, avatars. At one point I was able to upload a new avatar but it only showed on my profile page, not as my avatar. At some point that new pic disappeared from my profile page and I am now unable to upload any new pic. 
RE: Profile pages. When you click on someone's name you go to their profile page and it is like our own personal profile pages, where we can change and edit things. I consider that a private page and don't think that is what our public profile page should be. I think when we click on a person's name we should go to a page that just has their info they choose to show, a button to pm them, and a button to see all their posts, nothing more. That's how it used to be. 
It was nice when we could do all this from a drop down menu when you clicked on a name. 
RE: Posts still don't show their date and time which was very useful. 

RE: Links and photos from older threads (before the re-do). I'm guessing many of them they won't ever work or show up again. : ( 
RE: Subscriptions/Bookmarks. I know I've already been told it's no longer possible, but it's still annoying that we are not automatically subscribed/bookmarked to the pages we post on. I rarely remember to look for the icon to click and then I have a hard time finding threads I'm interested in. 
--I'm located in Western PA.   --I found NC in late 2004, CG since February 2005, joined the forums in May 2005, started going grey in late 2005.   --My hair is 3B with some 3A, currently at mid back length when dry,  texture-medium/fine, porosity-top is low, middle is medium, ends are porous, elasticity-normal.   --My long time favorite products are Suave & VO5 conditioners, LA Looks Sport Gel, coconut oil, honey, vinegar.   
--My CG and grey hair progress -  
http://www.naturallycurly.com/curltalk/going-gray/179328-jeepys-grey-hair-progress.html   
--My article at NaturallyCurly about going grey - 
https://www.naturallycurly.com/curlreading/color/how-i-went-completely-gray-and-loved-it
Leave a Comment