Anyone else trying new products, doing some experimenting this winter?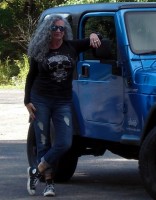 jeepcurlygurl
Registered Users, Curl Ambassador
Posts: 20,730
Curl Virtuoso
I've used the same products for years and I'm perfectly happy with them. Suave Conditioners and LA LOOKS Sport Gel, all cheap, easy to find, and they work great for me. But sometimes it's just fun to experiment with new things. And since I spend more time at home in the winter, it's the perfect time to do that.
I just got a bunch of new stuff from ShopNaturallyCurly!
Elucence Moisture Balancing Conditioner (I've used this before and like it)
Jessicurl Deep Conditioning Treatment - Island Fantasy (I buy this once a year or so and love it)
These are all new products for me so let the fun begin!
Ecoco Eco Pro Cream Styling Gel Infuse N' Curl
Taliah Waajid Black Earth Products Enhancing Herbal Conditioner
Taliah Waajid Curls, Waves, & Naturals The Great Detangler
U R Curly Quinoa Conditioner
And they also sent me a sample of the Coconut Restore Whipped Coconut Oil. I haven't tried it on my hair but I love it on my hands and feet.

Anybody else try something new lately? 

--I'm located in Western PA.   --I found NC in late 2004, CG since February 2005, joined the forums in May 2005, started going grey in late 2005.   --My hair is 3B with some 3A, currently at mid back length when dry,  texture-medium/fine, porosity-top is low, middle is medium, ends are porous, elasticity-normal.   --My long time favorite products are Suave & VO5 conditioners, LA Looks Sport Gel, coconut oil, honey, vinegar.   
--My CG and grey hair progress -  
http://www.naturallycurly.com/curltalk/going-gray/179328-jeepys-grey-hair-progress.html   
--My article at NaturallyCurly about going grey - 
https://www.naturallycurly.com/curlreading/color/how-i-went-completely-gray-and-loved-it
Leave a Comment