A conditioner find!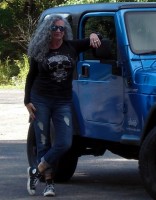 jeepcurlygurl
Registered Users, Curl Ambassador
Posts: 20,730
Curl Virtuoso
If any of you curlies have a Big Lots or Dollar Tree nearby they have 14 oz bottles of Spa Haus brand conditioners for $1 !!
I had gotten a bottle of the Argan Oil Cocoa Butter one last week at Big Lots and really liked it. Then I found 2 more varieties (TeaTree Mint, Keratin Oil) at Dollar Tree! I now have 8 bottles stashed away.
They all look CG at a quick glance. They are not a super thick consistency but are great for conditioner washing.
They also have the shampoo for anyone who uses shampoo.
--I'm located in Western PA.   --I found NC in late 2004, CG since February 2005, joined the forums in May 2005, started going grey in late 2005.   --My hair is 3B with some 3A, currently at mid back length when dry,  texture-medium/fine, porosity-top is low, middle is medium, ends are porous, elasticity-normal.   --My long time favorite products are Suave & VO5 conditioners, LA Looks Sport Gel, coconut oil, honey, vinegar.   
--My CG and grey hair progress -  
http://www.naturallycurly.com/curltalk/going-gray/179328-jeepys-grey-hair-progress.html   
--My article at NaturallyCurly about going grey - 
https://www.naturallycurly.com/curlreading/color/how-i-went-completely-gray-and-loved-it
Leave a Comment