2c/3a lo-po, fine haired curly seeks advise

cachosju
Registered Users
Posts: 10
Curl Neophyte
Hi everyone!
I need your help.
[In this picture my hair was brushed out after showering, several days old and had been put in a tail... I still think you can see it's need for shine well]
I have at least partially fine hair, but a lot of it. I think I may just have learned my trouble behind it remaining so dry: low porosity.
Last time it was so dry, frizzy and fluffy so I once again tried to help it out:
After having washed my hair several hours ago it is still more wet than dry. It always takes forever to dry but this time it may be due to me having put some oil in it. It is a little better now after having quickly blow-dried it with an ion-diffuser. It seems to need warmth to soak up even the littlest drops of oil. But now it's hanging totally flat wlith gelly waves. It' aweful. Only damp but looks soaking wet.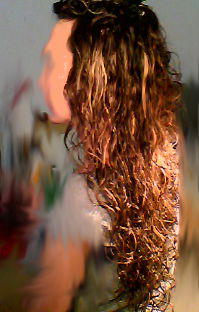 When I put nothing in I can go without washing for 10-14 days, only then my hair starts to get oily.
Whenever I have tried to put some moisturizer in it looses all it's curls to waves, looks greasy.
How can I define and enhance my curls without weighing them down? How can I give moisturize to it that it accepts?
I think I may now have to plaid it because it is just too greasy and lump, and I have not even used a lot of oil, about 2 cent big a blub. But since I spread it everywhere from the ear downwards (though mainly only the very ends) it is, well, everywhere now. And my hair is less curly now than when it was plopped for 10 Min!
That is why I end up never using anything. I know one can heat up a towel or put oil in the hair before taking a hot bath so I will try this in the future. But what to put after having washed it? And wash it with what? Which condi to wash? Brush? Leave in, deep condition even?
Which gel for a gel crust? Better none?
I know no protein, no glycerin probably is the best option, but which products are like that and not too heavy otherwise? Oil has protein maybe? Should I use no oil at all unless to deep condition it with heated towel wraps? And how do I get rid of the frizz without loosing all my volume?
Help!
Leave a Comment