Items for sale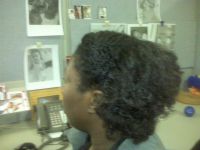 Cerendipity
Registered Users
Posts: 5,091
Curl Novice
Hi, I'm getting rid of excess products. Not looking to swap at the moment.
Naturelle Grow Marshmallow Root, Slippery Elm Bark, Blue Malva Cleansing Conditioner 16oz , 60 % remaining $12
Soultanicals Knot Sauce 16 oz, 90 % remaining $18 -sold
CC Naturals Double Flax Butter 8oz 85% remaining $5 -sold
Jane Carter Curl defining Cream 6oz 100% sealed $15 -sold

Ynobe lemongrass & avocado flaxseed smoothie 4oz 95% remaining $6- sold

Naturalee Macadamia seed twisting butter 8oz, 85% remaining $6 -sold
Sheamoisture Purification masque 8oz 100% sealed, $10 - sold
Paypal, shipping is $2-3. If you buy more than one item, I'll include shipping. Thank you.
Leave a Comment