Lookie what I found!

lcl0706
Posts: 959
Registered Users
So I OC'd the top part of my hair today - too much LI I think so i just pulled that half back. Lo and behold... I finally saw the bottom layer of my hair on display. This is the shortest part of my style & therefore gets trimmed the most often & takes minimal diffuser heat. Its probably far and away the healthiest.

Im surprised! Real live spirals. Gives me motivation to continue taking care of my hair. Cant believe I spent so much time fighting what grows out of my head!

Last pic is awkward I know lol

Sent from my PG06100 using CurlTalk App
:wave:
fine, thin, normal/(low?) porosity. Mod-CG. Usually I can't co-wash more than 1x a week, & sometimes I have to use T-Gel in rotation due to scalp issues.
Co-wash:
VO5 Volumizing
Poo:
Giovanni 50:50
RO:
TN, Nexxus Youth Renewal, Alba Coconut
LI:
KCKT
PT:
gelatin PT, ION EC
Stylers:
Giovanni mousse, TIGI Curls Rock amplifier (a-cone), Curls Rock Strong Hold Mousse
Gels:
SCC spray gel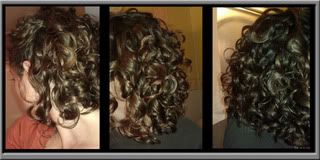 Leave a Comment