Is this outfit "80s" enough?

Jaynee
Posts: 2,039
Registered Users
Curl Neophyte
So I found out last weekend that DH's work holiday party, which is next weekend, is 80s themed. I'm trying to come up with an outfit using a couple of things I already own and I'm wondering if it will work. Here's what I have so far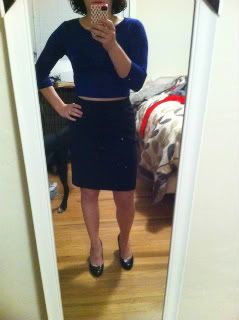 I already owned the skirt and shoes and picked the shirt up at Forever21 tonight. It's hard to see, but it's sheer royal blue with some glitter. I was thinking of getting some bright colored tights...would that make it look more 80s? And if so, should I get a color close to the shirt color, or something completely different like pink or purple? I would really like the skirt to be a mini skirt, so if I find one that's inexpensive I will get it, but would this one work?
I'm also going to look for some colorful bangle bracelets (those lovely plastic ones...which I think they are selling again). Any other easy/cheap suggestions?
Leave a Comment