Anyone watching White Collar?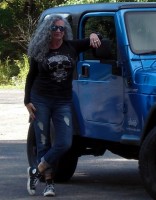 jeepcurlygurl
Registered Users, Curl Ambassador
Posts: 20,729
Curl Virtuoso
I just came across it today on Yidio and watched the first 2 episodes. I really like it and plan on catching up on the rest of them. Matt Bomer is too cute and the 'odd couple' partnership between his character and the FBI guy is really entertaining. Good show!
--I'm located in Western PA.   --I found NC in late 2004, CG since February 2005, joined the forums in May 2005, started going grey in late 2005.   --My hair is 3B with some 3A, currently at mid back length when dry,  texture-medium/fine, porosity-top is low, middle is medium, ends are porous, elasticity-normal.   --My long time favorite products are Suave & VO5 conditioners, LA Looks Sport Gel, coconut oil, honey, vinegar.   
--My CG and grey hair progress -  
http://www.naturallycurly.com/curltalk/going-gray/179328-jeepys-grey-hair-progress.html   
--My article at NaturallyCurly about going grey - 
https://www.naturallycurly.com/curlreading/color/how-i-went-completely-gray-and-loved-it
Leave a Comment