CurlTalk
Thinking about heading to the dark side (flat iron)
kellygreen49
Posts: 625
Registered Users
Oh my lord.
I haven't been on in forever. And while I wasn't an "original" on the boards like a lot of you, I totally missed the curly haired humor you all have.
The reason I haven't been on is I have been highly neglecting my hair. Ever since I went to a salon to get a cut/coloring, I haven't been following a strict CG routine. Sulfates here and there. Cones everywhere. I've been wearing my hair in a ponytail most days since I work at a bakery now.
Anyways.
I co-washed today for the first time in a month or so. I've been using GTTTT's shampoo now for awhile and following up with GVP balm. I haven't really been getting consistent curl, not the way I used to. I use [buylink=
http://www.curlmart.com/AG-Recoil-p-24.html?utm_source=naturallycurly.com&utm_medium=text-link&utm_content=curltalk-post-text&utm_campaign=ag-hair-cosmetics-recoil-curl-activator]AG
Re:coil[/buylink] and that's pretty much it. I haven't been using HESMU since I've been going to bed with wet hair anyways.
I was toying with the idea of buying brand new products and starting out fresh. Getting around $70 worth of stuff at CurlMart (Wen Cleansing Condish/Frizz balm/AG weightless gel/Jessicurl Stimulating Massage Oil.) But it just seems I can't really get the results I want. I already have two full baskets of hair products. I've been leaning more and more towards straightening my hair everyday and I HATE straightening my hair. It's a huge process. But the reliability flattening my hair and having it come out the way I want it to sounds very nice.
I just can't get the curls in my signature anymore, and I know it is partly because my hair has grown out a bit. However, I feel I should be able to still achieve some level of moisture. And at least when I use a flat iron, I get some sort of illusion of that...
My hair now (in my PJ's, sorry lol) :
Image25.jpg
Image27.jpg
Image28.jpg
...What do you ladies think? I'm sort of torn. Even my Mom is yelling at me to flat iron it lately.
3A~fine texture
Cleanser: GiovanniTTTT, Deva Low Poo
Condish: Deva One C, GiovanniTTTT, GVP Balm
Styler: Deva ArcANGELL, HESMU, AG Mousse Gel
Want to try: CJ Gellie, Hand Dry Hair Glove, BRHG
I
second day hair :iconbiggrin:
Call me a Curltalk Otaku. ~MirCurls
/home/leaving?target=http%3A%2F%2Fpublic.fotki.com%2Fkellygreen49%2F" class="Popup
PW curlyhair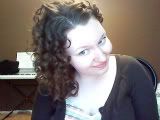 Leave a Comment