Soren is one!
Sigi
Registered Users
Posts: 2,379
Yesterday was Soren's first birthday. I can't believe how quickly that year flew by.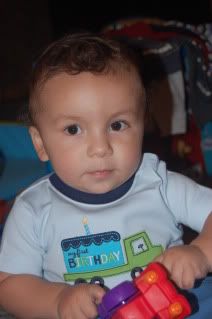 He finally started crawling, but at first would only crawl to toys out of his reach. Once he realised he could follow me around, he really took off. He's cruising furniture so I think he'll be walking in a month or two.
He's a pretty happy baby for the most part. He doesn't like to take naps, especially his afternoon nap. I think he's worried about all the action he'll miss with his brothers. Bennett and Preston love to drag him around and play with him, and Soren loves it when they do.
Oh, and a little fun fact: He loves loves loves the theme song to Monk. He will stop whatever he is doing and focus on that song. It is so funny. So when he's fussy we'll throw in a Monk dvd for a slight distraction. "
It's a jungle out there..."
Leave a Comment