Ready to Start, Need Advice...

bambier
Posts: 9
Registered Users
I was actually searching the internet today for ideas for how to get my hair cut to help manage the curls better when I came across this site and all of this talk of not shampooing.
For me, it sounded like a fantastic idea - the moments where my hair looked the best were actually after almost an entire month at sea, where we ran out of shampoo, but I had my own bottle of suave conditioner. Some people used body wash, but I wasn't so brave, so without really meaning to, I was co-washing! It wasn't perfect last time, and really I definitely need to look more polished than I did at sea, but no less...
Here's my questions/issues/plea for help
1. My hair needs cut - drastically. Any recommendations on getting it cut now or waiting until after I've been going for a few weeks?
2. Hair coloring - just a couple nights ago I went to dye my hair dark brown so my roots matched and it came out nearly black, I can't stand it this dark and am going to have to do something about it - should I mess with that before starting as well? I'm going to check in the hair coloring section for ideas on how to correct that screw up.
3. What is plopping? I swear I've clicked all over for the past hour and can't find that one!
4. Product and Regimen Suggestions? I don't even know how to determine what hair type I have, so I don't know where to start in looking for persons with similar hair to ask for help. I'll post a few pictures...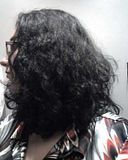 This is the mess I made after dying my hair. No products or anything in my hair - this is just how it dried after dying and using the conditioner in the box of dye. the front and sides had been pulled back until the picture was taken.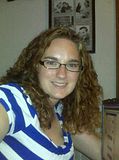 This is what my hair looked like prior to my dying it - my normal routine is charles worthington BIG waves shampoo/conditioner. Towel dry and then infusium 23 and FX Curls Up Curl Reactivator and Defrizzant. I never use a brush or comb, always my fingers. Then I'll use hair clips to pile the hair on top of my head while it dries, sometimes I'll take the blowdryer to it on a low setting while it's piled up but not for very long and I still let it airdry most of the way. Typically I'll leave it in the clips overnight, in the morning I'll take the clips out and finger comb through then use more of the curl reactivator/defrizzant and FX Curl Booster Scrunching and Curling Spray.
Bigger versions of the pictures are here if it helps:
http://i17.photobucket.com/albums/b71/bambier/random/hair1.jpg
http://i17.photobucket.com/albums/b71/bambier/random/hair3.jpg
http://i17.photobucket.com/albums/b71/bambier/random/n502441430_1160165_8922.jpg
CG Since July 20, 2009

Co-Wash: Suave Coconut, Salon Care Honey/Almond
Co: Giovanni DT, Yes 2 Cucumbers, GVP CB
Styling
: KY, HETT Mousse, LA Looks, HESMU Spray Gel, Overnight Plopping
Occasional: ACV Rinse
Leave a Comment