CurlTalk
Moisture vs. Moisturizers
ReddishRocks
Posts: 779
Registered Users
This has come up a lot lately as it relates to the use of oils and butters, which is a topic I'm very interested in as there seems to be so much confusion and misinformation. I'm cross posting this from
my blog
:
This is very picky and semantic, I know. But words mean things. If we're going to try to dissect how products work for our hair, we have to be vigilant and use proper terms. I am NOT a chemist, and there are huge holes in my understanding. I'm doing the best I can here with the tools I've got.
I really feel there's a difference, when it comes to the chemistry of hair care, between the words "moisture" and "moisturizer." The terms are so close in spelling that people don't realize there's a difference in MEANING, so we've got to be careful:
Moisture = water content.
Moisturizer = chemical(s) designed to reduce evaporation (aka moisture loss), often combined with water in products.
Sadly, the terms are so over-used and misused that the semantic difference is nearly lost. It's almost impossible to Google the definition of "moisturizer".
Products touted as "moisturizers" often contain a high amount of water (which will impart moisture) and chemical moisturizers (which will inhibit evaporation).
It's that one-two punch that makes sense to me.
Chemical moisturizers that inhibit evaporation are all kinds of things. This is where I quickly get out of my depth - the chemistry behind it is complicated, and I really should be cleaning my house right now instead of trying to understand the difference between emulsions and liposomes... Simply put, oils, cholesterols, humectants (under the right circumstances), etc. can all aid in the gaining and retention of moisture when used properly in conjunction with water.
Wikipedia
is NOT my favorite source, but it's quick and easy and correct enough for our purposes.
So,
an oil by itself is NOT moisturizing
. You cannot put it on second-day hair and expect it to increase the moisture content of your hair. It can keep your hair from losing more water as you get further and further from wash day, but only an application of water or some water-containing product will be truly helpful if your hair is suffering from dryness.
I think this is why Lustrasilk works so well for me. The stuff is so water-laden that it gets soupy in my little bucket sometimes. It also contains oils and cholesterol, both of which will help keep the moisture in place.
Submitted for your perusal with much love! :love3: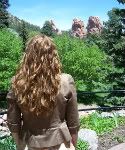 Hair is best when wabi-sabi.
2b/2c at this length, more 3a when shorter
M/C ii
Mod CG: Sept 08
Using: Suave co-wash, GVP Conditioning Balm
,
Lustrasilk OOC, MGA, BRHG

Humectants: @ dew point 40+

My blog for dry climate curlies and growing out a pixie: Colorado Curly

Leave a Comment