Anyone here eat organically?
kellygreen49
Registered Users
Posts: 625
Benefits? Thoughts?

I've been thinking about heading to Trader Joe's and starting to eat organically (with a little "natural" thrown in...so I won't be really strict with it.)

My family eats a LOT of junk food, so the main idea is to not "tempt" myself, by giving myself "special" food that only I can eat.

I've gained 15 pounds within the past 4 months just by stress eating... so hopefully if my food is more expensive/hard to get, I'll follow a better diet. Also, my skin's been breaking out a lot. And I notice certain foods/vitamins make a difference.
3A~fine texture
Cleanser: GiovanniTTTT, Deva Low Poo
Condish: Deva One C, GiovanniTTTT, GVP Balm
Styler: Deva ArcANGELL, HESMU, AG Mousse Gel
Want to try: CJ Gellie, Hand Dry Hair Glove, BRHG
I
second day hair :iconbiggrin:
Call me a Curltalk Otaku. ~MirCurls
http://public.fotki.com/kellygreen49/
PW curlyhair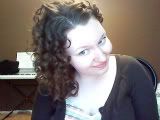 Leave a Comment