CurlTalk
One side has root curl, the other doesn't!
purplecurls27
Posts: 73
Registered Users
After showering this morning, I put in gel, plopped for 5 minutes, then diffused for a few minutes. I then let it air dry some more, then I diffused a little more so I didn't have to wait so long for it to dry (pixiecurl diffused). The left side of my hair looks pretty good...curls start at the roots and look decent pretty much all the way down. But, the right side is straight for about 2" or so, then it starts to curl! It looks stupid, imo. It almost looks over-curled...like I let it sit in hot rollers too long, lol! My hair is about chin-length when curly and about collar-bone length straight. But, I do have layers, so my hair looks really weird. I am just not happy with it at all today! I can't seem to figure out diffusing...it's either over-curled or not curled enough
Excuse the way I look...first thing in the morning pre-makeup!
Front view...just looks messy!
Left side looks pretty good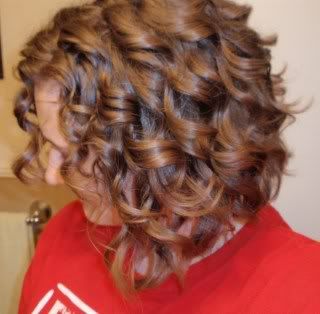 Right side looks really weird! See how the curl doesn't start as high up as the left side?
Leave a Comment