Obama girls (long emotional vent)
wavezncurlz
Registered Users
Posts: 1,814
I know, he asked for it and he got it - loss of privacy for him and his family.

BUT... I just wanted to vent. I live in the DC suburbs. This morning, I was watching the news. They were on "1st day of school watch" for the girls and the streets that led to the school were a virtual parking lot. I just felt sorry for the girls.

I don't know if I'm emotionally sensitive today but for some reason, I started to weep as I thought about the girls' lives from here on out.

This emotion struck me as Sasha peered out from the window of the car that was driving her. I looked at her eyes, I saw a little fear. I worry about them having a normal life and growing up in the limelight.I was trying to explain my feelings to my husband as I was bawling inexplicably.


I really hope the press will leave them alone. But I am beginning to think they will not. I mean, People magazine has already said that the family on their cover is a huge seller. Will they be allowed to have failures as teens without everyone hearing about them? I know other kids of noted parents go through this but I feel these girls have the extra pressure of being daughters of a "historical presidency" or "a first". Plus they are so young!

I wonder if some people want to see them do poorly or mess up. I'm worried about their safety. They seem so well grounded now - I hope that remains.

I don't know, maybe I see my girls in them - two young African American girls and I want so badly for the Obama girls to show America that our kids can be smart, polite, beautiful...you get it.... AND at the same time, I want them to have a normal childhood.

Boy, is that some pressure?

I don't know if this post will set off anyone or become a trainwreck. That is not my intention. I just needed a place to vent and express my feelings on the matter. Feel free to comment.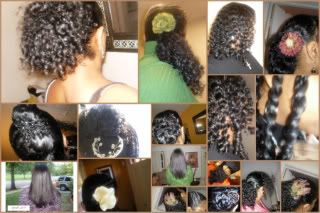 [
mini-album w/ various styles for the past 10 years of natural hair:
http://s29.photobucket.com/albums/c252/wavezncurlz/hair/
password: curlzorwavez
Leave a Comment