A VERY Over-due Birth Announcement!!!
Sisa
Posts: 759
Registered Users
(((First off, I know that this is way over-due... The custom is to post in the week or two following the birth, not 12 weeks later!
I also realize that I last posted here in August in a bit of a frenzy over not having attented birthing classes and worrying about which country I would / should be in to deliver. I hope that my lack of response to the wonderful advice in that thread, while admittedly inconsiderate on the surface, was not seen as a hit-and-run posting, and that you all might forgive me for the disappearance. I've been through a lot in the past few months, and did not mean to seek advice and solicit concern like that, and then run off and stop posting, nor did I wish to stay away this long.
I've always appreciated this site, and now more than ever this particular forum. I have learned a wealth of information from all of the lurking I did before I announced my pregnancy; you all have helped me more than you know, and better yet - you helped to soothe me and calm my fears about delivering 'unprepared'. I now know that yes - it really IS going to happen one way or another in the end!
)))
That said…
I would like to announce the arrival of my son!
He was born just one day before his due date, on Sunday, September 21st, 2008.
Unfortunately, I had believed the hype when everyone told me that I wasn't going to deliver for another week or so… I had been painting and doing all sorts of active things in a hurry against the clock and calendar. Despite being a rather organized person most of the time, I wasn't actually prepared for his birth to happen at any moment, and ended up being taken by surprise when I got up late at night to use the washroom and had my water break on the way!
After consulting with my midwife over the phone, I was advised to take a Tylenol and go back to bed for a bit, as the contractions were nothing more than menstrual period like at that point. I tried to settle down for the night, but they came closer and stronger faster than expected. I tried showering and such - anything to distract from the contractions, and then finally broke down and called her again. She explained that while she could not admit me if I wasn't in active labour, that she would come over and check me out, and if I wasn't ready, we'd wait it out at my house until I was. That sent me into a whirlwind; packing my bag for the Birthing Centre (I wasn't actually ready, remember?
) while she drove the 45 minutes to my house.
After she arrived and did an examination and determined that I was already 9 cm dialated (!), she suggested we get to the Birthing Centre pronto!
I delivered him in a local Birthing Centre, which seemed to nicely combine the best of both the home and medical settings in my mind. I had been able to get an AMAZING midwife on short notice, even though I had been planning a more traditional delivery in the US. (To up-date from the no-birthing-classes-panic thread: I ended up going back to Canada at 37 weeks… I'd been in the USA, but going back was the rather hard-to-make decision I ended up making.) My lovely midwife brought me and my little boy through the labour and delivery process even more smoothly than anticipated, and now I honestly could not imagine doing it any other way! All in all – from beginning to end, I was in labour for about eleven hours. I started at around 12:30 AM, and managed to deliver naturally – without requiring drugs or other medical interventions – at 11:20 AM.
You all are right - midwives ROCK! (And kudos to my provincial government for covering their cost with our health care plan!)
My son was 20 1/2 inches long, and weighed 7 lbs. 1 oz.
We are both doing well, but there is a lot of commotion going on in this house (I'm at my parent's place again and it's a bit of a stressful, "busy" environment… Ack!), and I can't seem to shake the feeling of being overwhelmed and sleep deprived. While I DO take the help when I absolutely need it, I try to avoid "passing him off" on my parents. I want him to know who his parents are, and it's not them. I believe that he is my responsibility, not theirs, so I try to work through it with him. Since daddy is living away from us right now (he's still in the USA), I am pretty much busy day and night, caring for our little boy... And what an overwhelming task it is to care for an infant! (This AIN'T babysitting – ha ha ha!)
I am breastfeeding on cue, so we're doing that quite a bit throughout the day… And night! I believe it's the very best thing for him – I believe that with all my heart – but it sure does take time! He's an incredibly good-natured baby and pretty much only cries when he's hungry. While he slept like crazy during the day when he was first born, he's now currently on a nap strike and barely sleeps during the day, even though he's obviously T-I-R-E-D!!! This has been going on for a few weeks now, and I'm basically holding him most of the day at this point, and waiting it out. He seems to change patterns just when I get used to something.
While I am blissfully in love with this boy, caring for him presently leaves very little time for things that don't revolve around being a mom. Unfortunately, this includes being active (and I was SO active throughout that pregnancy!) with my running. While I was still running 5k's at 37 weeks, I am now doing nothing, and have really dropped the ball post-partum. Tiredness and the tons of snow outside aren't helping things. I am almost ashamed to admit that I now weigh more than I did after I had him. I'm GAINING weight even though it's supposed to 'just fall off' if you breastfeed! :-| A few of you might know that I have PCOS, and you might know just what that entails… With my weight shot up right now, I am experiencing many symptoms that had slowed when I was thinner and fit. I know that weight reduction through exercise and good eating is my only hope! I need to get things together and get back to a healthier me in the new year. I want to be an active mom when I play with my son, being a good example to him.
But enough of my whining… :cool:
I will now be the quintessential naturallycurly.com
Attention Whore
, and attach some (too many probably!
) pictures of my precious boy. (I don't have great pictures of he and I together at this point… I seem to be the one taking them so they're those *arm's reach* type shots for the most part.)
I know it may seem odd, but I have to refrain from posting his real name here. (I will be kind of 'pulling and Amneris'
, if you will, and I'll still be referring to him here on this site as "
Baby Boy
".) It kind of sucks that I need to do this, but I am involved in a situation that requires it to be this way, and I want to protect his personal identity and identifying information and keep them from being posted on public areas of the web. I appreciate your understanding concerning this.
Well… Thanks for giving me the opportunity to introduce Baby Boy to you... I thank God for this little boy, and I thank you all for your kind thoughts and prayers!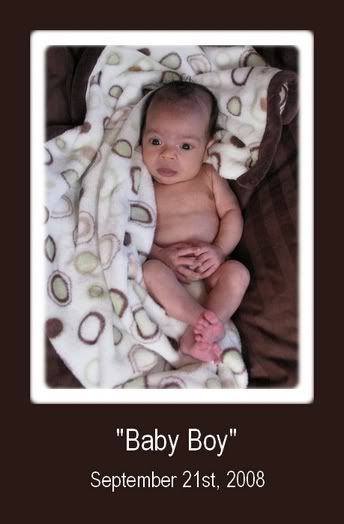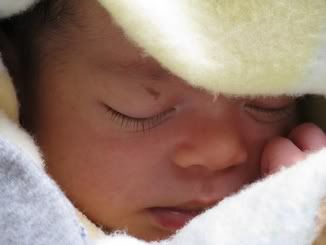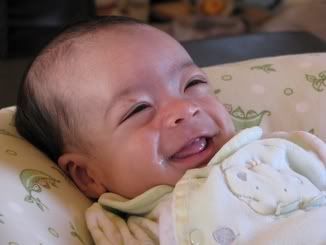 Leave a Comment