We'd like your help getting CurlTalk back on its feet!

By participating on CurlTalk — posting, commenting, liking — in the next few weeks, you will automatically be entered to win amazing prizes.

Our latest winner is Savagegirl!

CurlyCanadian, Bomega and EllaJ have also won wonderful prizes! Will you be next? Post, like, comment, GET ACTIVE and help us get CurlTalk ENERGIZED again!

Learn more!
Aloe Vera = Humectant?
ReddishRocks
Posts: 779
Registered Users
Curl Neophyte
This has come up a couple of times now, and my inner nerd wants to get to the bottom of it!!!
Afrosheenqueen recently provided this link:
/home/leaving?target=http%3A%2F%2Fwww.cosmeticscop.com%2Fcosmetic...ictionary.aspx" class="Popup
which is from the Paula's Choice website. It lists aloe vera as a "water-binding agent," which, according to the same source, is synonymous with "humectant."
We just had another conversation about this very thing, and Jillipoo says aloe vera is not a humectant...
http://www.naturallycurly.com/curlta...19962#poststop
I'm not sure what her source is, but I'm hoping she can provide it!
Nowhere does the CurlChemist list aloe vera as a humectant. (See
http://www.naturallycurly.com/curlre...tants-and-hair
and
http://www.naturallycurly.com/curlre...are-humectants
)
So, I'm confused. If it IS a humectant, this blows several of my theories, which is fine, but it means I need to reassess some other things I'm doing, LOL!
Anyone have additional input?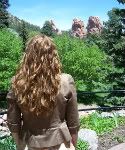 Hair is best when wabi-sabi.
2b/2c at this length, more 3a when shorter
M/C ii
Mod CG: Sept 08
Using: Suave co-wash, GVP Conditioning Balm
,
Lustrasilk OOC, MGA, BRHG

Humectants: @ dew point 40+

My blog for dry climate curlies and growing out a pixie: Colorado Curly

Leave a Comment