We'd like your help getting CurlTalk back on its feet!

By participating on CurlTalk — posting, commenting, liking — in the next few weeks, you will automatically be entered to win amazing prizes.

Our latest winner is Savagegirl!

CurlyCanadian, Bomega and EllaJ have also won wonderful prizes! Will you be next? Post, like, comment, GET ACTIVE and help us get CurlTalk ENERGIZED again!

Learn more!
Protein DT = stronger hair?
ReddishRocks
Posts: 779
Registered Users
Curl Neophyte
*kicks the search feature* Yeah, I'm sure this has been covered, but since "DT" is shorter than three letters... :cussing: That's DEEP TREATMENT for anyone searching in the future. *sigh*
My goal is to strengthen my hair. I was trying some updo's, and I wasn't happy to see the breakage in my hands when I was done (and I honestly wasn't abusing my hair!).
Anyway, I'm fairly certain that I'm protein sensitive in that my hair feels like straw if I use it too frequently. But would it be advisable to do a protein DT to strengthen my hair, followed my a moisturizing DT? Or is that stupid/redundant?
Are there other things I can or should be doing to strengthen my hair?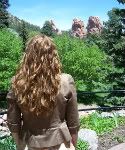 Hair is best when wabi-sabi.
2b/2c at this length, more 3a when shorter
M/C ii
Mod CG: Sept 08
Using: Suave co-wash, GVP Conditioning Balm
,
Lustrasilk OOC, MGA, BRHG

Humectants: @ dew point 40+

My blog for dry climate curlies and growing out a pixie: Colorado Curly

Leave a Comment