CurlTalk
Honey - bleaching effect question...
ReddishRocks
Posts: 779
Registered Users
Have you experienced this? I know the Curl Chemist article (
http://www.naturallycurly.com/curlreading/curly-q-a/curlchemist-the-buzz-about-honey
) mentions the phenomenon, but I've also read that some are of the opinion that time plays a factor (i.e. the longer you leave it on, the more the peroxides have a chance to do their thing).
This bleaching possibility scares me to death! I'm looking for things to help me clump better, but I'm a natural redhead and I would cry myself to sleep for at least a month if something negative happened to my color! :sad11:
IF you've noticed a bleaching effect, do you use honey as a leave-in? Or are you getting this with just a rinse or mixed with a rinse-out conditioner?
Thanks in advance!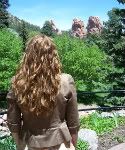 Hair is best when wabi-sabi.
2b/2c at this length, more 3a when shorter
M/C ii
Mod CG: Sept 08
Using: Suave co-wash, GVP Conditioning Balm
,
Lustrasilk OOC, MGA, BRHG

Humectants: @ dew point 40+

My blog for dry climate curlies and growing out a pixie: Colorado Curly

Failed to load the poll.
Failed to load the poll.
Leave a Comment