Thanks for helping! The beast is being tamed!!

dia99
Registered Users
Posts: 1,998
Here are some pics of my hair right now. In these pics, I was going out with DaNa so I washed my hair in the shower, put some light gel on it with my fingers and then attempted a pineapple with a t-shirt (bent over, wrapped the t-shirt around my head, twisted the hair up in the t-shirt, secured the "cone"). I let it sit that way for about 2 hours before I took it off.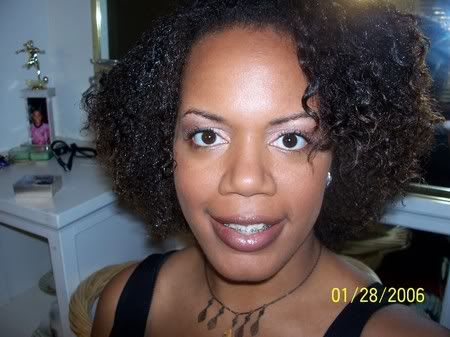 I have BIG hair - it is thick AND I have lots of strands of hair. Even when I have a relaxer, my hair is volumous (is this a word??). No matter how long it gets, it stays big and goes even as it goes down.
What can I do to remedy this? Will I have to resort to getting it thinned? This is kind of annoying, because it's even hard to put into a ponytail when it's bra-strap length (if it's not relaxed).
I like my hair sometimes, but I am getting really frustrated with the bigness of it, and may end up getting a relaxer this summer if I can't figure something out. Last time I got sick of it after three years natural and got a relaxer again. Then, I cut it all off July '04 and started over with a "boy" cut. It's at the point of frustration right now!!!!
Any suggestions would be appreciated, even if its just telling me some relevant threads to read. Thanks!!!!
ps - I am putting this in 4a and 4b, so as to hopefully get more advice!!
Sorry - I keep trying to change the size of the pics and it's not working here. So I'll just leave the one until I figure something out.
People rise to the standard expected of them. GC
Leave a Comment