CurlTalk
Big Chop and I love it

riotkitty
Posts: 1,307
Registered Users
So I decided I wanted to cut my hair short for the summer, and cut all the dyed black hair. The current color is after several hennas, which also relaxed my hair a bit making going short a lot easier. My stylist is Deva-trained but we when with a more involved cut involving a lot of texturizing. I did this to start growing it long again, but I love it so much I may stay short for a while. Its so easy!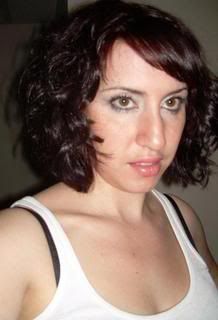 Oh the make up is from the MAC Heatherette collection. Eye Trio 1, Lollipop Loving lipstick layered with Sockhop Lipglass.
Have several allergies and sensitivities.
Current products
Low Poo/Cowash: Rio Grande Herb Co Negrita and Amole Deep Treatment Concentrate, Magick Botanicals (MB) Shampoo (diluted)
Rinse out/Leave in: MB with apricot kernel and jojoba oils added
Protein Treatment: MB Conditioner for Thinning Hair, IAgirl's protien treatment
Style: MB Gel mixed with LOTD Aloe Vera Gelly


2b-c, need lots of moisture, likes protein in moderation.
Leave a Comment