Good progress so far

PhoenixRising
Registered Users
Posts: 28
Hi, I've only been following CG for a couple of weeks, but I'm alreasdy having good success with styling ala the method on the Jessicurl site. The videos are really helpful. I've always loved my curly hair and worn it curly but never got the hang of styling it properly except for mousse and diffusing on special occasions (can't do that much as my scalp is really sensitive).
Today I COed and then used Trevor Sorbie curl cream, plopped for 10 mins, then scrunched in a little gel and a bit later diffused a little as we were going out and I wanted to see how my hair looked when it was dry.
This was my hair last week with no products, air dried:
And this is today (the extra shine is just from this pic having flash I think: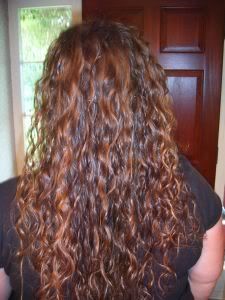 I hope it keeps going this well! I'm not expecting to be able to give up shampoo completely as my scalp can be quite greasy but we'll see. Hoping to reduce it to once a week maybe. I have some sulphate free stuff to try too. I hope reducing shampoo will mean I can reduce conditioner so I don't have to weigh my hair down with tonnes of rich conditioner every day.
Next Tues I am having my hair cut. It's a little too long at the moment to be at its best (though if I could I'd have it even longer) and needs a good trim and a few long layers. I'm hoping it'll curl even better then.
Anyway, thanks for listening!
Leave a Comment