For those who have birthed more than one child
wavezncurlz
Registered Users
Posts: 1,814
I was thinking of Amneris' post about having a baby and the answers she got to her questions. I thought I'd do a spin-off and ask about 2nd, 3rd, and subsequent births.

How was pregnancy different 2nd, 3rd ...time around?
For me it's just been faster - I mean that I showed faster, I feel fatter faster, I ached sooner.... I am carrying higher this time. Otherwise I am not feeling much different. I didn't get morning sickness either time.

Did you feel less worried?
I am less worried - esp now that we are confident all is well
But I still worry...maybe I'm a worrywart by nature.

How similar or different was your subsequent birth experience(s)?
Most of you know I had a quick labor and birth so I'm scared that the second will be quicker...

If you breastfed first time, did you do it with each new child?
If so, was it as difficult as the first time? I just remember being so frustrated and in pain in the beginning! :shock:

How similar or different were subsequent babies? I'm wondering about personalities...

Finally, (my biggest fear/worry) did you worry about your relationship with #1 being compromised or changing? Did your fears come true?

Thanks guys!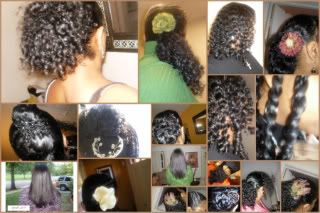 [
mini-album w/ various styles for the past 10 years of natural hair:
http://s29.photobucket.com/albums/c252/wavezncurlz/hair/
password: curlzorwavez
Leave a Comment