I had my baby!

Amneris
Registered Users
Posts: 15,117
It IS a boy!!!! And it WAS labour!!!!
Some details.....
He was bigger than expected - 7 lbs. 5 oz. and 22in. All natural vaginal delivery. Some quick details - despite all predictions/expectations to the contrary and lack of preparation, labour began on the due date, Fri 20th at 4am with contractions 8-10 min apart, not bad but demanded attention. Lots of bloody show. Called in to work. Laboured at home/mall, packed hospital bag etc. till husband got off work (we decided he should go, as mama was with me.) About 5pm, contractions more intense and about 5min apart. Deal with them by walking. More bloody show. Contractions increase, not pain as I would have expected, but intense low pressure. Get in bath for a bit. Get out to walk. Water breaks. Contractions about 3 min apart. Head for hospital. Not far, but about 4 ctx in car - not fun sitting still - I'm in the back seat hollering my lungs out, other drivers think I'm crazy. Go to obstetrical triage, can't find my records, have to answer zillion qs while panting and pacing in labour. Take me to screening, time for cervical check. Husband goes to park car and move bags. Hate vaginal exams and it HURTS with this nurse - more screaming and hollering from me. They threaten to give me gas. A resident comes, does it somehow, I'm 100% effaced and 5-6cm dilated. Have to do 20 mins on monitor lying on bak - excruciating! Keep asking to get up and walk till they finally let me - wires in the way. Check me in to a private room (later met someone who came in 2hrs later, and had to share with 3 others b/c they were out of rooms so I was lucky.) Family members arrive. They come in my room but nurses feel they are distracting, send all but husband to waiting room which is surprisingly secretly OK w/me. Labour in room till hot tub is ready - labour in tub rocking side to side with ctx. Feel urge to push, get checked. Came in at 7.30 5-6 cm, 7cm by 9.30. Back in tub, at 10 REALLY want to push.
Check and I'm 9.5 cm w/a lip, suggest pushing to see if will open, can't push. Say to wait a bit. Walking round w/every contraction flapping arms like a bird and taking deep breaths. Nurses chasing me w/doppler and blood pressure cuff. Feeling intense pressure. Fully dilated @ 10.15 (by now tolerating checks better) and they say can push, in retrospect maybe should have waited. Ctx 2-3 min apart and v. intense. Not sure how to push at first, nurses explain. Give me options of pushing w/bar, on toilet etc. Try all. Sure baby will be born soon. After 2 hours of pushing, not a lot of progress (small piece of head shows, but goes back up.) Realize this will be a July 21 baby. Start to feel discouraged - husband is AWESOME and encourages me, gives me water or juice & cool cloth w/ each contraction, plays CDs for me, which really help as I concentrate on the music. They suggest resting instead of pushing but ctx are too intense and MUST push. By now, so tired that can only push on back w/ legs up on bar even though I know it's not the best position. They say I am pushing well, and suggest trying some gas - I say OK, they bring out mask, I look at it and say NO. I keep asking qs about how much longer I have to do this etc. Nurses are encouraging me too saying I keep saying I can't do it but then do it. Dr comes in, tells me to tuck chest in, grab backs of legs etc. Pushes become more effective. Have never met doc before as she is from my OB's practice as my OB is not on duty.
Finally more of head begins to show, they say I can reach down & feel (wish I had asked for mirror.) Husband who swore he would support me but not look looks and says baby has my hair. Begin to feel a burning, push through it. Dr. comes back and they start getting ready for delivery. Family come in. Dr. is supporting or touching or something down there - can't feel and don't care. Blood everywhere and am nauseous, but no vomiting or pooping. Dr. starts saying not to push, or small push. Husband yells that head is coming. All of a sudden, feel baby slide out. Tons of activity/excitement. Baby doesn't cry as loud as expected. Husband tells me it's a boy. Expected I would cry, but just relieved and exhausted. Finally, no ctx. Wait for cord to stop pulsing. Get only a little tummy time before it's down to business.
Nurses are messing around w/baby, ask them for length and weight. Dr. tells me I have a second degree tear and need stitches. First, has to give me a shot of syntocinon as I have no IV, tells me to push out placenta (I don't like this but wasn't given a choice.) Don't feel like pushing, but get it out. Ask doc to show me placenta and sac. Doc stitches me - AGONY and I am hollering, way worse than labour. Seems to take forever. Shocked (but not upset) that husband videoed and photographed birth on my camera. I had forgotten about pics! FINALLY get baby - his temp is low so they want us to have tummy time and try nursing. Family meet baby. Am getting tired and just want to sleep - finally fall asleep, nurses take baby off my chest and put in bassinet beside me. Whole thing took almost 22 hours, but only 6 in hospital - 3 of labour and 3 pushing. Shocked it was so early and fast as I have family history of late and long labours. Think being active and no drugs helped me.
It was pretty much the birth experience I had hoped for minus the admission and the tearing (the beginning and the end) - nurses and doc were great. Also husband. Family did turn out to be a distraction but great they were part of it - not all were there as they had planned on it being later.
Stayed in hospital till Monday noon, constant visitors and breast feeding, exhausted! Public health nurse came today and baby is already almost at birth weight! Priest also came and blessed him. He looks like his father. Nipples holding up OK but constant breast feeding much harder than I expected. Stitches KILL - hard to move or be comfortable - worst part of whole thing and much worse than labour. Have honestly had a lot of periods worse than labour.
Here are some pics.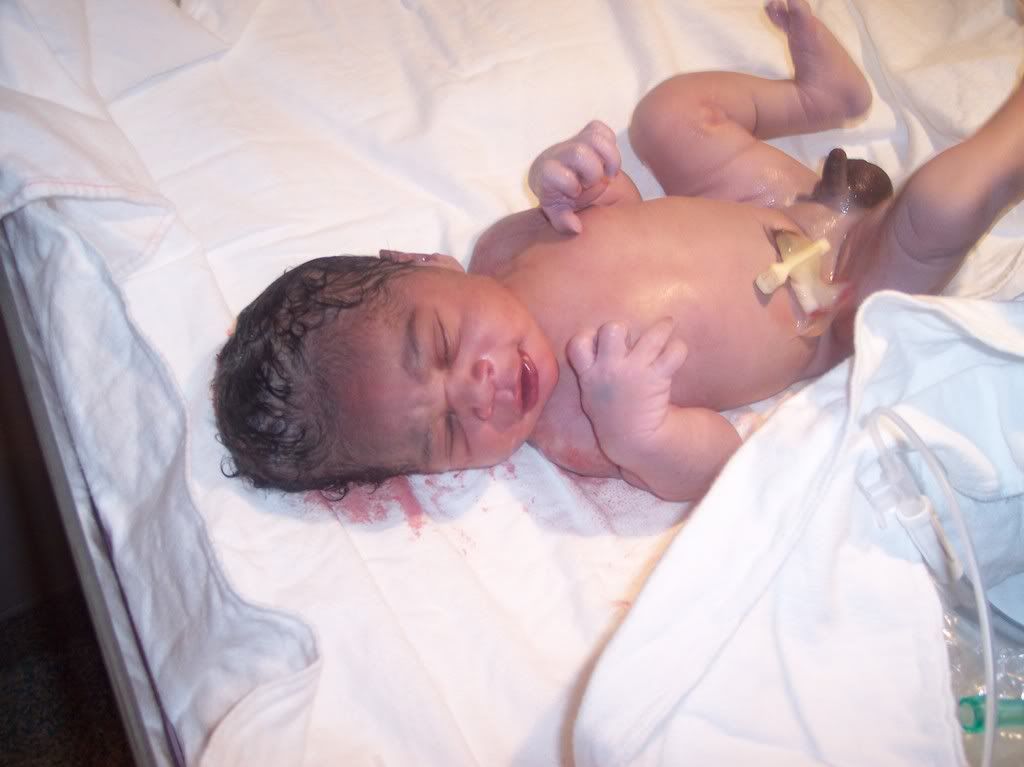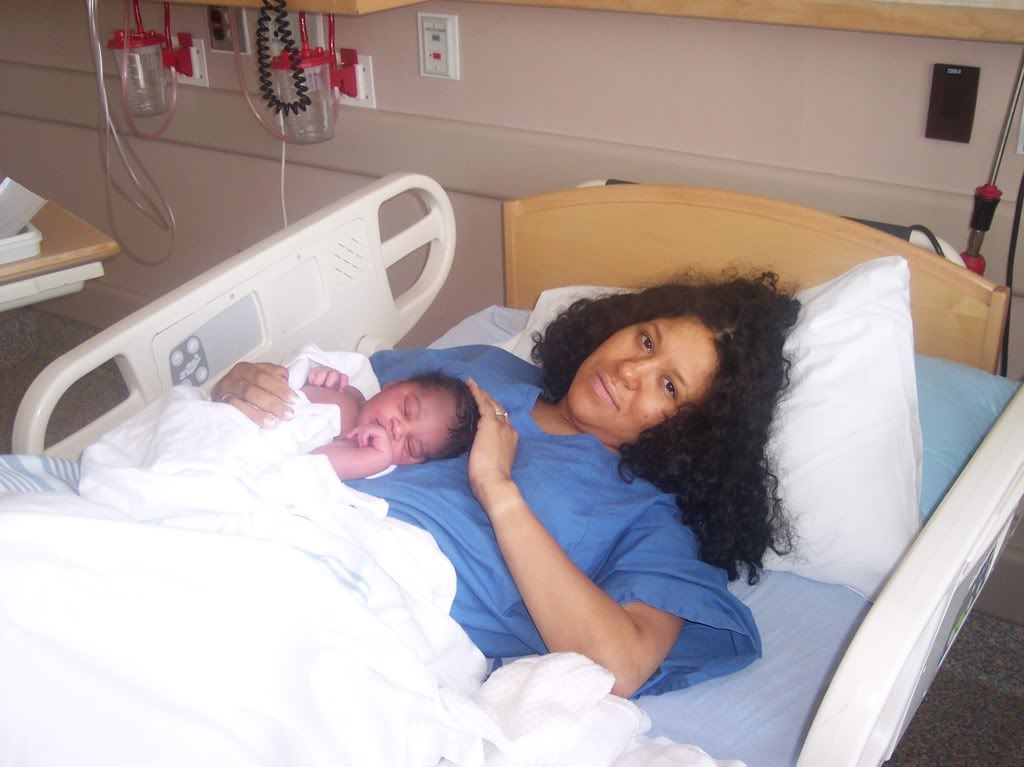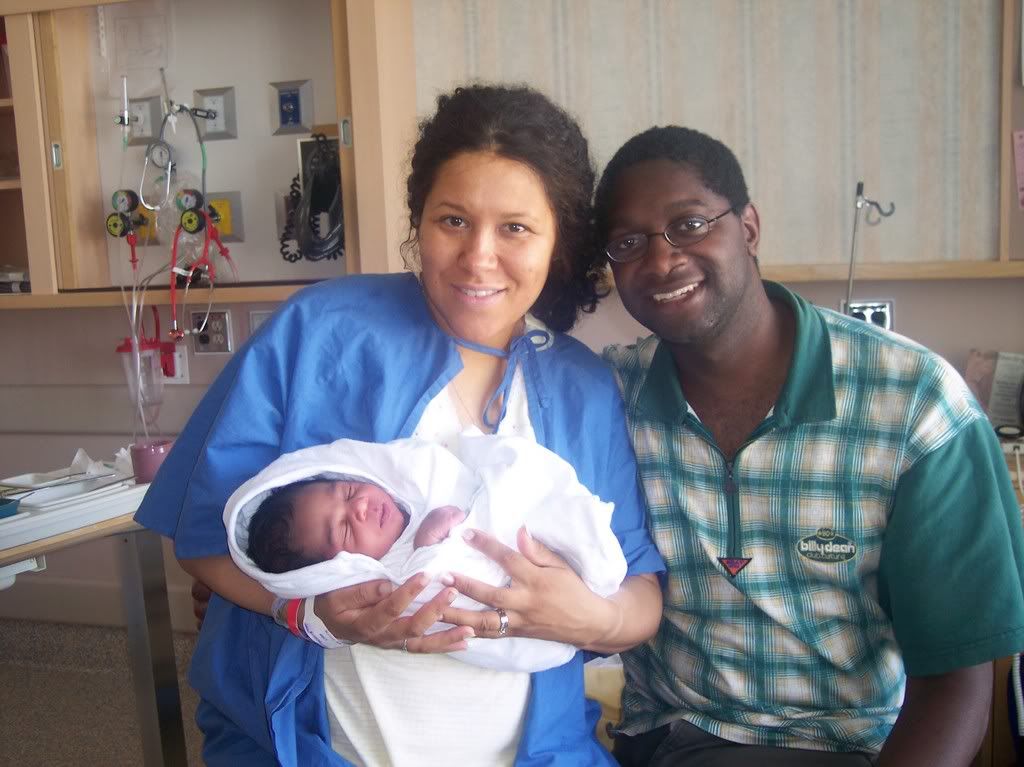 Get used to me. Black, confident, cocky; my name, not yours; my religion, not yours; my goals, my own; get used to me. -Muhammad Ali
Leave a Comment