We'd like your help getting CurlTalk back on its feet!

By participating on CurlTalk — posting, commenting, liking — in the next few weeks, you will automatically be entered to win amazing prizes.

Our latest winner is Savagegirl!

CurlyCanadian, Bomega and EllaJ have also won wonderful prizes! Will you be next? Post, like, comment, GET ACTIVE and help us get CurlTalk ENERGIZED again!

Learn more!
I really wanna go BLONDE!will it suit me-UPDATE
sarasara
Posts: 1,561
Registered Users
I've had highlights for a year now,and I kept adding more highlights with time.The lighter I went the more compliments I got,till I got a full head of blonde highlights which really sucked and looks terrible on me...I've had worse colors,but this certainly isnt best.Anyways,I have been dyiing my hair before this very dark,even darker than my natural haircolor (which is dark brown)for years,so Im really bored with dark colors.I experimented a bit with lighter brunette but still go bored of the dark since I've had dark hair for so long.I keep wanting to go lighter,and rightg now I really want platinum highlights...but I dont want the same highlights I get,which are thin to medium and look like one color,but more of chunky big pieces with lots of dark,since all over blonde doesnt look good on me. This is what I mean by the thickness of highlights I want:
The color of highlights I want is this shade of blonde:
And Im not sure about the base.This is also the color I want,but it doesnt show will since I took the pic from the TV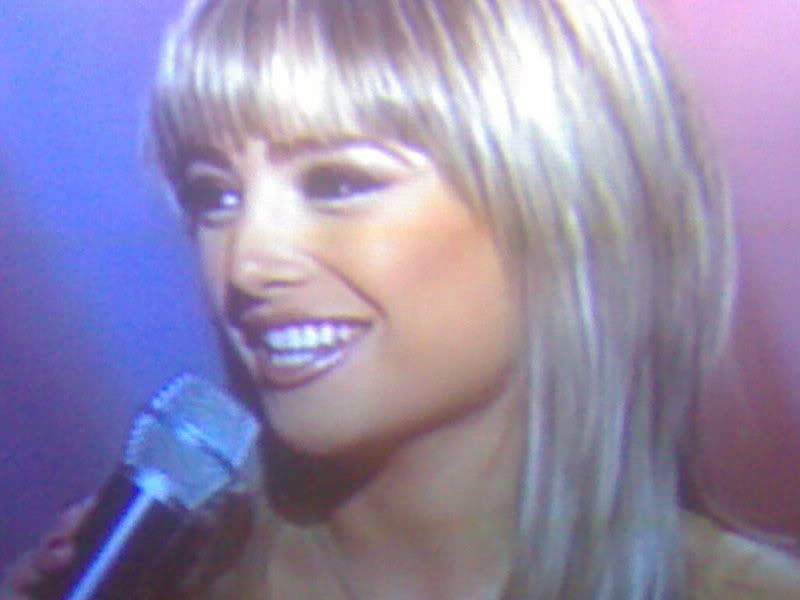 Problem is I dont know what the base color should be,and I dunno if this woman has just one color or highlights,because I see a base color at the bangs,but dont know if it actually is or is just a shadow or something.
Ok,now its time for you to please give your opinions on how you think the color would look on me,because I reaaaaaaaaallly need advice.Here are some pics of me,not very clear since from a webcam,but I put a few so you'd get an idea about my skincolor and stuff
Advice pls
Failed to load the poll.
Failed to load the poll.
Leave a Comment