What are the products in your wash/clarify schedule?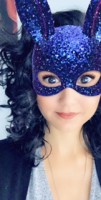 tinksaysboo
Registered Users, Curl Ambassador
Posts: 543
Curl Virtuoso
I see a lot of curlies on this board who have wash schedules.

For example: co-wash on normal washes, sulfate free shampoo bi-weekly, and a sulfate shampoo once a month

I am curious at what everyone's wash schedules look like and what specific products you are using.  I would like to compare ingredients to one another.  
2c/3a | low porosity | fine/medium | low/medium density| protein,coconut, and green tea sensitive | Modified CGM

Low-Poo:  Jessicurl Hair Cleansing Cream
Sulfate Wash: Aveda Rosemary Mint Purifying Shampoo
Rinse Out Conditioner: DevalCurl One Condition
Leave-In Conditioner: Curl Junkie Smoothing Lotion
Deep Conditioner: DevaCurl Heaven In Hair
Curl Enhancer: Curl Junkie Spiral Lotion
Gel: Jessicurl Spiralicious Gel
Leave a Comment