Trojan on Curl Talk?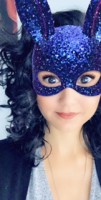 tinksaysboo
Posts: 543
Registered Users, Curl Ambassador
Curl Virtuoso
Not sure how to contact someone now that Gretchen is gone, but my computer keeps blocking a Trojan every time I visit a curtalk.naturallycurly.com.  Not happening with the rest of naturallycurly.com (or any other website, just Curl talk. 
2c/3a | low porosity | fine/medium | low/medium density| protein,coconut, and green tea sensitive | Modified CGM

Low-Poo:  Jessicurl Hair Cleansing Cream
Sulfate Wash: Aveda Rosemary Mint Purifying Shampoo
Rinse Out Conditioner: DevalCurl One Condition
Leave-In Conditioner: Curl Junkie Smoothing Lotion
Deep Conditioner: DevaCurl Heaven In Hair
Curl Enhancer: Curl Junkie Spiral Lotion
Gel: Jessicurl Spiralicious Gel
Leave a Comment