Anyone tried BeautyCounter Hair Products?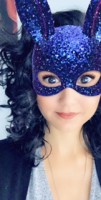 tinksaysboo
Registered Users, Curl Ambassador
Posts: 543
Curl Virtuoso
I am going to be out of conditioner soon, so I wanted to purchase a new one solely based on the ingredients. 
BeautyCounter's Smooth & Control
conditioner won.   Now that I've ordered it I've been looking for reviews from curlies....... but I can't find any.  Now I am super nervous and thinking "what have you done?!? That stuff ain't cheap!"
Have any of you tried BeautyCounter's hair products?  What were your results? 
2c/3a | low porosity | fine/medium | low/medium density| protein,coconut, and green tea sensitive | Modified CGM

Low-Poo:  Jessicurl Hair Cleansing Cream
Sulfate Wash: Aveda Rosemary Mint Purifying Shampoo
Rinse Out Conditioner: DevalCurl One Condition
Leave-In Conditioner: Curl Junkie Smoothing Lotion
Deep Conditioner: DevaCurl Heaven In Hair
Curl Enhancer: Curl Junkie Spiral Lotion
Gel: Jessicurl Spiralicious Gel
Leave a Comment