Beach Thread for Beach Lovers!

Josephine
Posts: 14,408
Registered Users
Curl Connoisseur
Anyone here love the beach and if so, what are your favorite beaches and why? Beach activities? Pix? How often do you go?
I typically go 3-5 times a year. I used to always go to Destin/PCB/Ft Walton and Miami. Now that I'm in ny, it's about the same price to fly down to the Caribbean. This year I've been to Barbados, Turks and Caicos, Cancun, Athens and Mykonos(bday trip). Been a busy beach year and now I need to save money and it's driving me crazy that I haven't been to the beach since June!

I love clear water and white, nice sand. I prefer Caribbean and Gulf beaches over the Mediterranean. The prettiest beaches I've seen are in Turks and Caicos. But favorite is Destin/Panhandle area mostly because the hotels on the beach are more affordable and there is something different about the waves and ocean there. I like Barbados most overall. Very laid back, fun, safe, a lot of beach bars, cheap, not too touristy.

I need to be in the water most of the time and then just relaxing in the sun. Ideally stay out there all day with a cooler with drinks and food. At one point in my life, I'd love to live on the beach.
I typically need a beach trip to de stress. It's totally my happy place.
Turks and Caicos

Barbados (Accra beach)

Destin, FL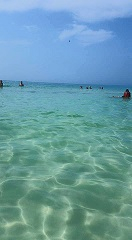 Matador beach in Malibu (nice, but not a fan of cali beaches)
Leave a Comment