Judge a Product by Its Ingredients, Not Its Name. Week of December 17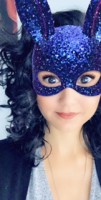 tinksaysboo
Registered Users, Curl Ambassador
Posts: 543
Curl Virtuoso
For those of you who are new: I will list the ingredients of two products along with some questions.  Your job is to answer those questions based on just the ingredients.    Please share any other observations you might have or some of your reasoning.  It helps us all learn to read ingredients better 
This week, we have two styling products. One is a drugstore brand and one is a high end. Can you tell which is which and what type of stylers these are?
Product A

Aqua/Water/Eau, VP/VA Copolymer, Propylene Glycol, Triethanolamine, Glycerin, Panthenol, Oleth-20, Carbomer, Polyquaternium-11, DMDM Hydantoin, Parfum, Amyl Cinnamal, Geraniol, Limonene, Linalool
Product B

Water (Aqua), Carbomer, Hydrolyzed Wheat Protein, Glycerin, Amino-2-Methyl-1-Propanol, Sodium Hydroxymethylglycinate, Polysorbate 20, Tetrasodium EDTA, Olive Oil, Fragrance (Parfum), CI 19140 Yellow 5
1. What type of product do you think these are?
2. Which one is the drug store and which is the premium 
3.  What type of curls would probably like product A?  What type of curls probably dislike it?
4. What about for product B?
Past Themes:
Co-Wash or Low Poo?
Deep Conditioner: Drugstore or high end?
Shampoo: Drugstore or high end?
Curl Enhancer or Leave-In?
2c/3a | low porosity | fine/medium | low/medium density| protein,coconut, and green tea sensitive | Modified CGM

Low-Poo:  Jessicurl Hair Cleansing Cream
Sulfate Wash: Aveda Rosemary Mint Purifying Shampoo
Rinse Out Conditioner: DevalCurl One Condition
Leave-In Conditioner: Curl Junkie Smoothing Lotion
Deep Conditioner: DevaCurl Heaven In Hair
Curl Enhancer: Curl Junkie Spiral Lotion
Gel: Jessicurl Spiralicious Gel
Leave a Comment