Do "anti-aging" ingredients slow down the going gray?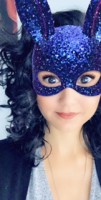 tinksaysboo
Posts: 543
Registered Users, Curl Ambassador
Curl Virtuoso
I have been doing deeper dives into ingredients in my hair products and have noticed that some ingredients claim anti aging properties, such as Malus Domestica Fruit Extract (apple stem cells).

First off - what does anti aging in hair mean? The only thing I can think of is going gray. So per question, do anti aging products slow down the going gray process?
2c/3a | low porosity | fine/medium | low/medium density| protein,coconut, and green tea sensitive | Modified CGM

Low-Poo: Jessicurl Hair Cleansing Cream
Sulfate Wash: Aveda Rosemary Mint Purifying Shampoo
Rinse Out Conditioner: DevalCurl One Condition
Leave-In Conditioner: Curl Junkie Smoothing Lotion
Deep Conditioner: DevaCurl Heaven In Hair
Curl Enhancer: Curl Junkie Spiral Lotion
Gel: Jessicurl Spiralicious Gel
Leave a Comment