Review: Curl Junkie's Spiral Lotion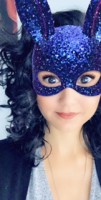 tinksaysboo
Posts: 543
Registered Users, Curl Ambassador
Curl Virtuoso
What I Was Using Previously:
JessieCurl's Rockin Ringlets Styling Potion


Why I'm Trying Spiral Lotion:
I am looking for a curl enhancer that offers more moisture than what I am currently using. I have trouble retaining moisture, which results in a halo of coarse frizz. Any attempt to get that frizz to rejoin the rest of my curls and make them touchable again on refresh days typically leaves my hair feeling dirty with products. Simply put, I often hate touching my hair and I think the lack of moisture is the problem I also need products that are protein and coconut oil free.
Problems with most creams:
Most creams leave my hair looking greasy and weigh down my curls

How I'm Using Spiral Lotion:
A dime size (maybe a little more) in soaking wet hair with praying hands after my leave in and before my gel. I scrunch after each product.
Review:

Off the bat, I hated that it was fragrance-free. All fragrance-free products smell like plastic to me. I've been using Spiral Lotion for about two weeks (3 co-washes, 1 low poo) and have had consistent results every time. Spiral Lotion did exactly what I was hoping it would do! Not only was my hair not greasy or weighed down, but I was able to use it on refresh day, 2,
3, AND 4!
I am rarely happy with refresh day, and anything past day two is done begrudgingly. For the first time since going CG (March 2018), not only am I happy with my refresh day, I don't want to wash my hair in fear of losing the great hair I've been having! It leaves my curls soft & "plump" with moisture. I definitely recommend this product for anyone looking for a little more moisture but can't handle heavy products
The one downside of Spiral Lotion is that it doesn't enhance my curls like Rockin Ringlets does. I am a pretty solid 2c/3a. Rockin Ringlets really help elevate my curls to be 3a curls. My hair, as a whole, looks more 2c with Spiral Lotion. That being said, I am so happy with the quality of my hair, I don't mind letting them be their natural Type 2 selves
2c/3a | low porosity | fine/medium | low/medium density| protein,coconut, and green tea sensitive | Modified CGM

Low-Poo: Jessicurl Hair Cleansing Cream
Sulfate Wash: Aveda Rosemary Mint Purifying Shampoo
Rinse Out Conditioner: DevalCurl One Condition
Leave-In Conditioner: Curl Junkie Smoothing Lotion
Deep Conditioner: DevaCurl Heaven In Hair
Curl Enhancer: Curl Junkie Spiral Lotion
Gel: Jessicurl Spiralicious Gel
Leave a Comment