Well Hello!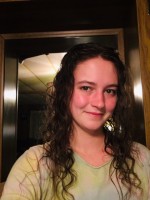 StupidSimple
Posts: 1
Registered Users, Curl Ambassador
Curl Neophyte
Hi!

My 2b thin and fine hair and me are very excited to be a part of the curly community!
My story is a little desperate...
I have had dreadlocks for about 5 years and after combing them out my typically thin hair is at half the thinness I am used to and I am rather distraught about that and REALLY need advice on fixing that issue.
As well, I have never embraced my curls, I've always brushed, dried and straightened them, so I am completely new to making them thrive.
My main goal, at the moment, is building a healthy scalp and strengthening my incredibly damaged hair.
The curls are very happy and exhibiting typical 2b behavior when not messed with, which I am fine with, for now. I am more worried about hair and scalp health specific to curls.
Once it gets strong I will focus on how awesome they can become.
Oh, I also need to know how to find a good hairstylist!!!
Excited for this new adventure!!

Leave a Comment