Where is my breakage coming from?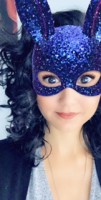 tinksaysboo
Registered Users, Curl Ambassador
Posts: 543
Curl Virtuoso
I am starting to think my endless frizz issue is due to breakage.  I lose lots of hair in the shower and compared a bunch of them left over in the tub.  They are all varying sizes and no visible roots.  I feel like I am doing everything that should prevent breakage so I am at a loss at what I can do. I,
Sleep on a satin pillowcase. I am inconsistent about what I do with my hair.  If the next day is a refresh day, I wear a satin bonnet or a polyester microfiber hair buff.  Mostly the latter.  If I plan on washing it in the morning I wear it in a pineapple or keep it down.
Detangle with my fingers while I co-wash until my fingers come out with only a few strands of hair
Use a wide tooth comb after I put in deep conditioner, after I put in my rinse out, before I rinse out my rinse out.
Inconsistently use a demean brush. When I do I use it before I rinse out my rinse out and after I put in gell but before I scrunch
Scrunch out extra moisture from my hair after I put in products with old cotton t-shirts.  Other than that I air dry
Diffuse 1-2 a week.  I use medium heat low speed (low heat does nothing to my hair)
Do a heated deep condition 2-3 a week
Rarely wear my hair up or use hats/hoods
Lounge on the couch with my satin pillow
Get a totally different type of frizz when I use protein and coconut 
So, any ideas at what changes I can make to stop the endless breakage?
2c/3a | low porosity | fine/medium | low/medium density| protein,coconut, and green tea sensitive | Modified CGM

Low-Poo:  Jessicurl Hair Cleansing Cream
Sulfate Wash: Aveda Rosemary Mint Purifying Shampoo
Rinse Out Conditioner: DevalCurl One Condition
Leave-In Conditioner: Curl Junkie Smoothing Lotion
Deep Conditioner: DevaCurl Heaven In Hair
Curl Enhancer: Curl Junkie Spiral Lotion
Gel: Jessicurl Spiralicious Gel
Leave a Comment