Does anyone else have frizz problems from plopping and like techniques?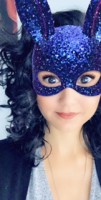 tinksaysboo
Registered Users, Curl Ambassador
Posts: 543
Curl Virtuoso
I use to plop when my hair was long and damaged.  Once I cut off the dead ends and half my hair, plopping stopped working for me.  It caused my hair to get this wispy frizz throughout.    I recently found a new routine in which I let my hair form a gel cast at night then put it up in a hair buff.  Last night I decided to see what happens if I put it up just as it's forming its cast (before it gets really hard).  I woke up with nice curls, but that wispy frizz is back!  When I let my hair air dry without any type of plopping like techniques, the frizz is really just a halo, not throughout. Does anyone else have this problem or can pinpoint what's causing this?  
2c/3a | low porosity | fine/medium | low/medium density| protein,coconut, and green tea sensitive | Modified CGM

Low-Poo:  Jessicurl Hair Cleansing Cream
Sulfate Wash: Aveda Rosemary Mint Purifying Shampoo
Rinse Out Conditioner: DevalCurl One Condition
Leave-In Conditioner: Curl Junkie Smoothing Lotion
Deep Conditioner: DevaCurl Heaven In Hair
Curl Enhancer: Curl Junkie Spiral Lotion
Gel: Jessicurl Spiralicious Gel
Leave a Comment