My Curly Story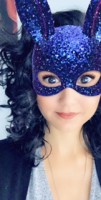 tinksaysboo
Posts: 543
Registered Users, Curl Ambassador
Curl Virtuoso
Hello everyone!

I am hitting my 7 month anniversary with the curly girl method! It's been a long 7 months of trial and error, but I have recently "cracked the code" to getting my curls to a place that makes me continuously happy. My straight haired mother never knew how to take care of curly hair, so my hair had been washed & blown dried since I was a child. Once I got control of styling my hair, it almost never went a day without a flat iron or curling iron (it's kind of funny to think that I would straighten my hair only to curl it again). On top of all that damage, my hair was almost continuously dyed from age 13 - 30. So as you can imagine, my hair was in a bad bad place. I was holding onto hope that CGM would repair my hair, as it was quite long, but parts of it were so beyond damaged it was permanently straightened! I finally faced reality and chopped half my hair off a couple months into CGM.

I am now in a place where I love my curls. Being able to walk out the door with my natural curls gives me a type of confidence and empowerment I have never felt before! It's been like one big science project. I know so much more about the science behind hair and I am more "one" with my hair than I have ever been! I have decided to join the Naturally Curly board to seek some guidance on some hair hurtles I still have (mostly around frizz) and also share some things I have learned.

One last note, I want to bring more awareness to the fact that curl type shouldn't be the defining factor in which you decide your hair care. I really struggled my first couple months going CGM. When I decided to cut off the dead ends, I decided to get a DevaCut. My stylist told me to stop using these "rules" for wavy/curlies and consider my hair porosity, thickness, and density. Ignoring the dos & don'ts the online curly community gave for my hair type was the game changer for me. If I had sought advice based porosity/density/texture instead of curl type in the beginning, I would have gotten to my curly happy place a lot sooner. I see online so many curlies who give up on their journey to naturally curly hair after a fairly short amount of time. That makes me sad, especially when they haven't given their curls a fighting chance.

Anyhoo, that's my story and why I am here. Look forward to being part of this curly community!
2c/3a | low porosity | fine/medium | low/medium density| protein,coconut, and green tea sensitive | Modified CGM

Low-Poo: Jessicurl Hair Cleansing Cream
Sulfate Wash: Aveda Rosemary Mint Purifying Shampoo
Rinse Out Conditioner: DevalCurl One Condition
Leave-In Conditioner: Curl Junkie Smoothing Lotion
Deep Conditioner: DevaCurl Heaven In Hair
Curl Enhancer: Curl Junkie Spiral Lotion
Gel: Jessicurl Spiralicious Gel
Leave a Comment