Help Retaining Moisture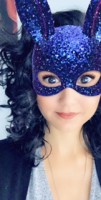 tinksaysboo
Posts: 543
Registered Users, Curl Ambassador
Curl Virtuoso
I really struggle with getting my hair to retain moisture throughout the day. By the end of most days, my hair is a halo of coarse frizz. I live in Seattle, where the weather is humid so many of my products have humectants in them.

I've tried the LCO (minus cream) method several times in the course of 7 months with both jojoba oil and argan oil. Both leave my hair looking greasy (even with a dime size for whole head).

My products are in my sig. I deep condition before every wash, and wash 2-3 times a week. I use a t-shirt to scrunch out excess moisture after I put in products and then let my hair air dry (a diffuser only increases my hair's inability to retain moisture).

Any tips or advice to help low porosity hair keep in moisture?

2c/3a | low porosity | fine/medium | low/medium density| protein,coconut, and green tea sensitive | Modified CGM

Low-Poo: Jessicurl Hair Cleansing Cream
Sulfate Wash: Aveda Rosemary Mint Purifying Shampoo
Rinse Out Conditioner: DevalCurl One Condition
Leave-In Conditioner: Curl Junkie Smoothing Lotion
Deep Conditioner: DevaCurl Heaven In Hair
Curl Enhancer: Curl Junkie Spiral Lotion
Gel: Jessicurl Spiralicious Gel
Leave a Comment