Using a tangle teezer type brush for scalp massages - is it bad?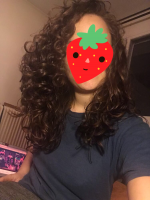 CurlyD24
Posts: 83
Registered Users, Curl Ambassador
Curl Connoisseur
I've been using my tangle teezer type brush (it's a knockoff I got in a beauty box) to wash my hair. I use it as a scalp massage brush when I'm shampooing. I feel like it gives me a really deep cleanse that I need because of the extremely hard water I have at my new apartment. It feels really good and does the job. However, I feel like it leaves my scalp feeling a bit tender and I wonder if I'm not overstimulating the hair follicles. Should I try and switch to a wooden brush ? Is this damaging my hair?
2c/3a hair, with some 2b and 3b pieces. Armpit length, medium porosity, fine. Light brown with blonde and red highlights. CG since January 2018.
Shampoo: Camille Rose Ginger Cleansing Rinse
Co-wash: MopTop Co-wash
Conditioner: Innersense Color Radiance
Stylers: Innersense Quiet Calm, Innersense I Create Hold, MopTop Custard
Leave a Comment