Either my porosity changed, or I misjudged it from the start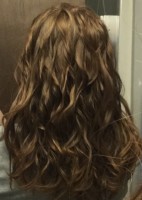 Keeyamah
Registered Users
Posts: 209
Curl Connoisseur
Once I started reading about porosity, I figured I had low porosity based on a few things, it takes forever to dry (up to 8ish hours....), doesn't like to be chemically treated (not that I've done that for almost 20 years, lol), and the heavier products really weighed it down and never absorbed.

But now, while it still takes quite a while to dry (haven't timed it without product in a while, and takes about 45 minutes of diffusing on medium to get to damp). Now the heavier products don't weigh the curls down,and accidentally putting to much product on, it gets absorbed by the next morning. In fact, to get my best waves/curls, I almost have to use the heavier products. 

So now I'm wondering if my porosity changed, or if I just misjudged it to start with. Maybe it's more average porosity?....
Fine, low porosity at the roots, high porosity at the ends, medium to med-high density 2b/c
Lo-Poo: Jessicurl Gentle Lather
Leave-in: Diluted Tresemme Botanique with Coconut milk and Aloe Vera

Rinse out: Tresemme Botanique with Coconut milk and Aloe Vera
Curl Creams: Cantu Shea Butter for Natural Hair and Kinky-Curly Knot Today
Gels: Herbal Essences Totally Twisted and LA Looks Sport Gel
Treatments: Hask Keratin Protein Smoothing Deep Conditioner 
Leave a Comment