Poofy hair and extreme dryness in the summer - any advice?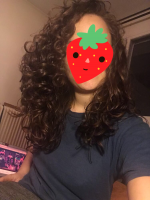 CurlyD24
Registered Users, Curl Ambassador
Posts: 83
Curl Connoisseur
My hair has been so poofy in the last weeks. I think it is the very high heat and humidity. My old products were not working very well anymore but I finished them and I recently switched to using Innersense. I use the Color Radiance Condish, QCCC and I create hold. 
These products are amazing and they gave me beautiful defined and shiny curls. However, it barely holds for a day. Yesterday it looked perfect, and started becoming poofy in the evening. I usually just wet it a bit with my hands and it brings some of the definition back. But the next morning, it poofs up so bad and it looks completely undefined ! 
I have stopped using low-poos: I never thought I would switch to cowash only but shampoo (even sulfate free and super gentle) has made my hair extremely dry. I also thought I needed to clarify so I used a low-poo with saponified shea butter and this stuff dried my hair out so bad. 
How do you guys fight extreme dryness and poofiness in the summer - should I try using a leave-in? oil treatment? Something else? I just want my hair to look at least presentable so I don't have to wash every day. 
2c/3a hair, with some 2b and 3b pieces. Armpit length, medium porosity, fine. Light brown with blonde and red highlights. CG since January 2018. 
Shampoo: Camille Rose Ginger Cleansing Rinse 
Co-wash: MopTop Co-wash 
Conditioner: Innersense Color Radiance 
Stylers: Innersense Quiet Calm, Innersense I Create Hold, MopTop Custard 
Leave a Comment