Most delicious chocolate cake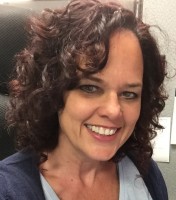 Gretchen
Administrator
Moderators
Posts: 10,840
Curl Virtuoso
My eldest son turns 18 tomorrow. Prom was Saturday night and our house was the pre- and post-prom gathering site, so I surprised my son with a post-prom birthday cake celebration since his pals were going to be here anyway.

I made this cake. I've made it once before and to me it's just the best dang chocolate cake ever. I don't like most cakes cuz they're too dry and not flavorful enough, but this one is awesome. 

Just thought I'd share with my CurlTalk friends! 

Deep & Dark Ganache Cake
6 ounces bittersweet chocolate, chopped
1-1/2 cups hot brewed coffee
4 large eggs
3 cups sugar
3/4 cup canola oil
2 teaspoons vanilla extract
2-1/2 cups all-purpose flour
1 cup baking cocoa
2 teaspoons baking soda
3/4 teaspoon baking powder
1-1/4 teaspoons salt
1-1/2 cups buttermilk
Preheat oven to 325°. Line bottoms of three greased 8-in.-square baking pans with parchment paper; grease paper.
Place chocolate in a small bowl. Pour hot coffee over chocolate; stir with a whisk until smooth. Cool slightly.
In a large bowl, beat eggs on high speed until lemon-colored. Gradually add sugar, oil, vanilla and chocolate mixture, beating until well blended. In another bowl, mix flour, cocoa, baking soda, baking powder and salt; add to chocolate mixture alternately with buttermilk, beating well after each addition.
Transfer to prepared pans. Bake 30-35 minutes or until a toothpick inserted in center comes out clean. Cool 10 minutes before removing from pans to wire racks; remove paper. Cool completely.
Ganache
1 1/2 cups (12 fluid ounces or 360 mililiters) heavy cream
1 lb (454 grams) semisweet or bittersweet dark chocolate
1 t light corn syrup
1. In a heavy saucepan, boil heavy cream. Turn off the heat. Add chopped chocolate pieces and let it rest until melted. Use a rubber spatula to stir the mixture until all the pieces are melted.
2. Pour it into a room-temperature bowl and cover with plastic wrap. Refrigerate the ganache until firm.

Gretchen
NaturallyCurly.com co-founder
3A

You are beautiful!
Leave a Comment