BOUNCE CURL FOR FREE ! + Sheamoisture products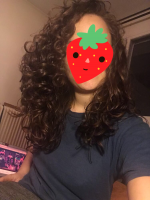 CurlyD24
Registered Users, Curl Ambassador
Posts: 83
Curl Connoisseur
I am giving my almost full bottle of Bounce Curl light creme gel for free, if you pay the shipping costs. It doesn't work for me and I want to declutter my stash of products !! 
Bounce curl light creme gel (used twice, 95% full) 
Also selling my Sheamoisture curl & style milk (80% full) for 5$!! 


2c/3a hair, with some 2b and 3b pieces. Armpit length, medium porosity, fine. Light brown with blonde and red highlights. CG since January 2018. 
Shampoo: Camille Rose Ginger Cleansing Rinse 
Co-wash: MopTop Co-wash 
Conditioner: Innersense Color Radiance 
Stylers: Innersense Quiet Calm, Innersense I Create Hold, MopTop Custard 
Leave a Comment