What are you wearing today?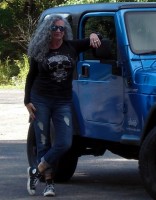 jeepcurlygurl
Posts: 20,729
Registered Users, Curl Ambassador
Curl Virtuoso
It's 4 degrees here so I'm dressed for winter.  Black turtleneck under tan LL Bean cableknit sweater, skinny jeans cuffed at the bottom, black pointy toed ballet flats, silver and amethyst jewelry. 
When I walk to/from work/gym I add a big camo jacket, black scarf and gloves, grey boots, and a black trapper hat lined in rabbit fur. 
--I'm located in Western PA.   --I found NC in late 2004, CG since February 2005, joined the forums in May 2005, started going grey in late 2005.   --My hair is 3B with some 3A, currently at mid back length when dry,  texture-medium/fine, porosity-top is low, middle is medium, ends are porous, elasticity-normal.   --My long time favorite products are Suave & VO5 conditioners, LA Looks Sport Gel, coconut oil, honey, vinegar.   
--My CG and grey hair progress -  
http://www.naturallycurly.com/curltalk/going-gray/179328-jeepys-grey-hair-progress.html   
--My article at NaturallyCurly about going grey - 
https://www.naturallycurly.com/curlreading/color/how-i-went-completely-gray-and-loved-it
Leave a Comment