Help a newbie decide on a starting routine, please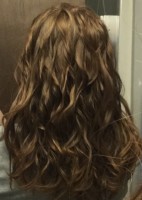 Keeyamah
Registered Users
Posts: 209
Curl Connoisseur
I know I'm some kind of type 2 and have been trying to figure out my porosity and density the last couple days. As near as I can figure, based on the cup test and previous experience with chemicals (trying to dye my hair, or perm it) that I have low porosity, fine, medium to medium-high density hair. The density comes from the fact that my hair is shoulder length and takes hours to completely dry, even in the warm (88F for a high) dry (average humidity is around 50% here all year, thought it was drier than that, learn something new every day) weather we had here yesterday.
So I know I'm gonna need "lighter" products, but I haven't exactly been able to figure out what that means. To start off with, I'm looking at the low-cost Walgreens, Target, etc items. I've been looking at this list a lot:
https://www.naturallycurly.com/curlreading/home/10-drugstore-finds-that-follow-the-curly-girl-method/
but it doesn't break it down by what's good for different porosity and such.
TYIA for any and all help.
Sent from my iPhone using Tapatalk
Fine, low porosity at the roots, high porosity at the ends, medium to med-high density 2b/c
Lo-Poo: Jessicurl Gentle Lather
Leave-in: Diluted Tresemme Botanique with Coconut milk and Aloe Vera

Rinse out: Tresemme Botanique with Coconut milk and Aloe Vera
Curl Creams: Cantu Shea Butter for Natural Hair and Kinky-Curly Knot Today
Gels: Herbal Essences Totally Twisted and LA Looks Sport Gel
Treatments: Hask Keratin Protein Smoothing Deep Conditioner 
Leave a Comment