Experimenting! Lots of reviews.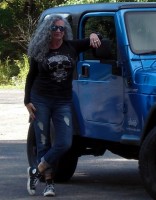 jeepcurlygurl
Registered Users, Curl Ambassador
Posts: 20,730
Curl Virtuoso
Warning! This is long! : )
A couple weeks ago a Facebook friend posted this link to a list of hair products, many for curly hair.
https://www.buzzfeed.com/augustafalletta/best-hair-care-products-1?bffbmain&ref=bffbmain&utm_term=.ea07YKq7JP#.wwNVWnOVd4
So I went through it and here is the list with my comments about ingredients and ones I would try.
1 Aussie 3 min miracle - silicones. No.
2 Ouai wave spray - no bad ingredients. Yes, try.
3 Devacurl - too much glycerin and I usually hate the way any Deva products smell. No.
4 Mane & Tail shampoo. I don't use shampoo or sulfates. No. But the conditioner seems to have ok ingredients so I would possibly try that.
5 Batiste dry shampoo. I don't ever like dry shampoos or any aerosol sprays. No.
6 Wet brush. I've tried various versions of these and they will not go through my hair. No.
7 Verb ghost oil - silicones. No.
8 Night Rider paste - pretty expensive. Is beeswax hard to get out of hair? I think I have too much hair for a paste. No
9 OGX hair butter - this stuff sounds so delicious, sad that it has silivones. No
10 Oribe dry texturizing spray. My hair and I just don't like anything aerosol. No
11 Eva NYC hair mask - has 1 cone but not the worst kind. I might try it if it was cheaper. No
12 Mixed chicks leave in - cones and a little above what I will usually pay. No
13 It's a 10 leave in - doesn't sound too bad but not cheap enough for me to try. No.
14 Curls creme brule - glycerin is high up on the ingredients but it sounds so yummy and isn't expensive so I might have to try it. Yes.
15 L'Oreal quick dry spray. I really wanted to try this but, silicones. Darn. No.
16 TRESemmé PERFECTLY (UN)DONE Conditioner - seems like ok ingredients. Yes
17 Chagrin valley shampoo bars - I can't get into shampoo bars. They seem weird to me. No.
18 Framesi color lover shampoo and cond - cones but not terrible ones. But doesn't grab me. No.
19 Yarok feed your curls creme - has great sounding ingredients. Too expensive for me but if I ever want to blow some money I might buy some. Yes
20 Not your mother's salt spray - My hair loves salt sprays for about a half hour then they hate them. Plus this has cones. No
21 Lush curly wurly shampoo - sulfates but lots of other good ingredients. More than I want to spend but I'm attracted to this product and want to buy it! Yes.
22 Shea Moisture curl enhancing smoothie - I think I've used this before. Good ingredients, not expensive. Yes.
23 Carol's daughter hair mask - cones low on the list, good ingredients otherwise. I've used some other products of hers that I liked but this is more than I want to spend. No.
24 Dry Bar gold mine cond - glycerin way up on the list, silicones, and I don't want shimmery stuff in my hair. No.
25 OGX biotin collagin shampoo - I don't use shampoo but I'm used lots of conditioners from this line. Very inexpensive and great for condition washing but not moisturizing so I add a bit of heavier conditioner at the end. Yes, I would buy these again (they are sometimes a buck a bottle at the dollar stores).
26 Paul Mitchell shampoo - sulfates and silicones. No.
--I'm located in Western PA.   --I found NC in late 2004, CG since February 2005, joined the forums in May 2005, started going grey in late 2005.   --My hair is 3B with some 3A, currently at mid back length when dry,  texture-medium/fine, porosity-top is low, middle is medium, ends are porous, elasticity-normal.   --My long time favorite products are Suave & VO5 conditioners, LA Looks Sport Gel, coconut oil, honey, vinegar.   
--My CG and grey hair progress -  
http://www.naturallycurly.com/curltalk/going-gray/179328-jeepys-grey-hair-progress.html   
--My article at NaturallyCurly about going grey - 
https://www.naturallycurly.com/curlreading/color/how-i-went-completely-gray-and-loved-it
Leave a Comment