Haircut advice?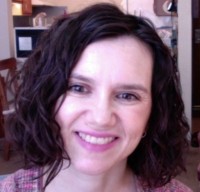 Therese1
Registered Users
Posts: 2,563
Curl Virtuoso
I've been growing out my hair for the last year and am having problems getting it to look the way I want. I have been using a regular stylist who is very good and open to suggestions, and I would like to keep her if possible rather than go to a curly stylist. She does a regular wet cut on me. I don't have much bounce-back with my curls in general, as I am only a 2a/2b.

I had a haircut last week, and I told my stylist that I felt that the bottom was too heavy. I wanted it to look more tapered rather than straight across.

To address this, my hair stylist decided to cut out a few chunks of hair on the underlayer and also on the canopy to try to reduce the bulk.

I feel like my hair can get some nice volume on the sides, where the shortest layer ends, but then it seems to hang straight down, giving me a bit of a blocky look. I sometimes purposefully try to pull out the curl on the shortest layer because that hair just looks like a "bump," since that layer bounces up more than the layers below. Smoothing the topmost layer down is really pointless because I *want* volume. The longest layer in particular seems to really hang there and not bounce up like the previous layers, making the ends of my hair look stringy.

Does anyone have any suggestions for what I should tell my hair stylist so that I can get a better shape to my hair? Or should I just suck it up and go to a curly stylist?

I hope the photos are OK. I do not have a means of taking photos other than my computer video camera right now. I did lighten them a bit to try to show more detail in my hair.

Thank you, all!
Low poo: Intelligent Nutrients (IN) Harmonic; Oribe Cleansing Creme
RO: IN Harmonic
LI: CJ Beauticurls; Jessicurl (JC) Gelebration Spray
DC: JC Deep Conditioning Treatment; Weleda Rosemary Conditioning Oil
Stylers: JC Confident Coils; IN Volumizing Spray; IN Perfect Hold Hairspray; John Masters Sea Mist; Bumble Bb. Gel; Kenra Firm-Hold Gel; Sevi Blue Yarrow Sea Salt Spray
Low-porosity 2a/b baby-fine hair
Leave a Comment