My natural hair looks liks Slash's hair.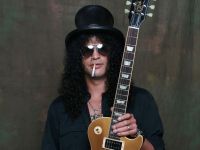 persikor
Registered Users
Posts: 13
Curl Neophyte
Literally like Slash, can't post links because I'm new here but google him if you don't know.
It's currently permanently straightened, which I like, but my hair is so "weak" now. I'm thinking of maybe going natural, like "what if i like it" but then I remember how much I looked like slash (i mean like identical twins) when I had my curly hair and mmmm better not. I still want to maybe go natural, but does anyone have tips on how to... not look like slash?
I watch all these natural girls with beautiful big hair and get tempted but MY natural hair just sits there, curly and slightly poofy, but most of all LOOKING LIKE SLASH.
Leave a Comment